i
Consider a sponsored online program currently accepting applicants.
| School | Level | Program | Admissions |
| --- | --- | --- | --- |
Click to view 100% online FNP programs that are taking applications for 2023.
Nurse practitioners can play an important role in the care of newborn babies in a clinical setting.
One of the most natural aspects of human life is childbirth. This wondrous part of life can consist of medical care that focuses both on the mother and her newly born child. If this particular field interests you as a professional, Neonatal NP programs may be a great place for you to become involved in a degree program.
Overview of the Neonatal NP Degree Program
All NP programs begin with the same steps. In order to be considered for these programs, students must complete a BSN in Nursing and have some experience working in the field. Practitioner programs are designed to build upon the knowledge that students have already gained in lower education programs, so your bachelor's education is vital to your success in master's level programs.
What Does a Neonatal NP Program Look Like?
One university that offers the Neonatal NP track states that students must complete 43 credit hours of coursework in order to meet the requirements of their program.
This can total out to about 2 years of additional education for master's level students, but could be even less for students that take an accelerated path, or for those that have completed some graduate-level coursework in nursing.
Who It's For
Neonatal NP programs are a popular choice for students that are looking for something more for their nursing program. This type of degree can lead to careers in many different areas of the medical field, including private practice. Read more below about this intriguing degree program and what it can provide for you as a licensed professional.
Degree programs that focus on this major intend to teach students about the possibly situations or complications that can arise during the birth process, as well as what is to come for newborns shortly after being born.
Neonatal NP degree programs seek to teach students about the different aspects of primary care and acute care for newborns in a hospital setting. If you enroll in this program, you can learn about the different conditions or health concerns that sometimes arise during a child's first few hours of life, how to deal with emergency situations shortly after birth, and how to care for infants from a general perspective.
i
Consider a sponsored online program currently accepting applicants.
School
Level
Program
Admissions
Georgetown University
Master
Online Master's in Nursing

Nursing@Georgetown delivers Georgetown University's MS in Nursing program online, preparing RNs with a BSN to pursue certification in an APRN specialty: AG-ACNP, FNP, NM/WHNP, or WHNP.

Website
Utica University
Master
Online MS - Family Nurse Practitioner (FNP)

Prepare for Family Nurse Practitioner (FNP) certification through the American Nurses Credentialing Center (ANCC) or the American Academy of Nurse Practitioners National Certification Board (AANP).

Website
Simmons University
Master
Master of Science in Nursing (MSN) - Family Nurse Practitioner (FNP) program

Scholarships are available for the online Family Nurse Practitioner program at Simmons University.

Website
St. John Fisher University
Master
Master of Science in Nursing

4 program options: PCFNP, PMHNP, AGACNP, AGPCNP. Part-time and accelerated tracks available. The Wegmans School of Nursing is ranked among the top 100 nursing schools nationally, and is No. 6 in New York state.

Website
George Mason University
Master
Online MSN - Family Nurse Practitioner

CCNE Accredited. Prepare to sit for exams from the American Nurses Credentialing Center (ANCC) and the American Academy of Nurse Practitioners (AANP).

Website
Campbellsville University
Master
Online MSN with FNP Track

Discover how to contribute to excellence in healthcare and provide quality, evidence-based and holistic primary care to diverse communities throughout the lifespan.

Website
Sacred Heart University
Master
Online MSN - Family Nurse Practitioner

GRE/GMAT Not Required.

Website
Seton Hall University
Master
Online MSN - Adult Gerontology Nurse Practitioner - Acute Care

CCNE-accredited program, 100% AANPCB exam pass rates for primary care graduates over the past five years.

Website
Seton Hall University
Master
Online MSN - Psychiatric Mental Health Nurse Practitioner

Graduate prepared to sit for ANCC's Psychiatric-Mental Health Nursing board certification.

Website
Seton Hall University
Master
Online MSN - Adult Gerontology Nurse Practitioner - Primary Care

CCNE-accredited program, Primary and Acute tracks.

Website
Benedictine University
Master
Master of Science in Nursing

CCNE accredited, 2 year program. Application fees waived.

Website
Sacred Heart University
Master
MSN - Clinical Nurse Leader
Website
Sacred Heart University
Master
MSN - Nursing Education
Website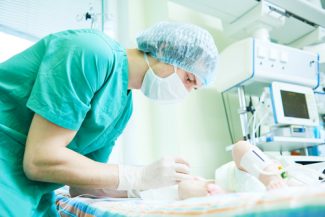 Children at this stage of life are fragile, so professionals that choose to work as Neonatal NPs require extensive training and education in regards to newborn care and emergency management.
Quick thinking and critical thinking are skills that can benefit students within this program, as well as a love for children and their families. This fulfilling degree program can lead to many different career options in the field, some of which will be discussed later in this guide.
Neonatal Nurse Practitioner Education Concepts
While in this program, students can learn more about the birth process and the possible complications that go alongside it. Students also focus their studies on the physiological changes and development of children within this age group, so that they can provide the best standard of care when working in the field.
Degree programs for this major include theoretical aspects, history, and practice standards for professionals that are entering into this advanced stage of nursing, and focus on the need for evidence-based practitioners.
Along with participation in classroom studies and learning, students are also required to take part in a supervised learning experience while in the program. This experience can help students see their peers in action and learn more about what it is like working in the Neonatal units at hospitals and maternity centers across the country. Once this experience has been completed and all courses are satisfied, students are in line for graduation and certification as Neonatal NPs.
Neonatal NP Course You Can Expect
Each degree program for Neonatal NPs is likely to be different. The course work that you can take is reviewed and accredited by accreditation agencies, so each program is required to have a certain set of courses and cover specific topics.
Our team of education experts has been researching educational programs for over a decade. In order to make your journey to higher education a little easier, they have provided some example courses for this program for you to read below.
Neonatal Nursing – Birth Through Age 2
This course outlines the development of neonatal patients from birth until the age of 2. Preventative methods, social, cognitive, and physical health are topics of interest throughout this course, as well as direct care methodology.
Neonatal Health Assessment
Health assessments for neonatal patients are discussed throughout this course. Data collection, physical assessments, and diagnostic studies may be a large portion of what students can learn while taking this course.
Developmental Physiology
Beginning at birth, this course helps outline how neonatal patients develop during the first stage of their natural life. Gestational assessment, physical development, and examination techniques are discussed throughout the duration of this class.
Neonatal Pharmacotherapeutics
Students that take this course can learn about the different medications and pharma-therapies available to patients within this age range. Dosage information, interactions, and side effects may be discussed in order to give students better knowledge on the pharmaceuticals that will be used in the field.
Procedures for Neonatal Nurse Practitioners
This course outlines the advanced practice skills needed for NPs within this field. Intensive care, primary care, and bedside manner are some of the main topics that students will study while taking this course.
Neonatal NP Specializations Available
Neonatal nursing itself can be considered a specialization for NPs. However, just like any other field in nursing, there are specialized areas within each subject for students to focus their learning. Since there are many stages during pregnancy, the birth process, and after birth, nurses can provide specialization to their patients within each stage.
Maternal Newborn Nursing is a specialization that allows students to focus on both mother and infant health before, during, and after birth. Degree programs with this specialization can teach students how to monitor the health of the mother in order to determine the overall health of the child.
Students within this concentration may play a large role in the observation of mother and child during the birthing process.
Low-Risk Neonatal Nursing is focused more on the preventative and observational aspects of neonatal nursing. Many babies are born each day, so nurses within this spectrum of expertise can work to ensure that protocol is followed for each birth, all monitoring and care is provided efficiently, and all screenings are administered within the right time frames.
Intensive Care Neonatal nursing degree specializations are strictly for newborn children that were born with complications or other health risks that require intensive care in a clinical setting.
Children that are born premature or those that have been born with difficulty breathing or heart issues are often held in intensive care for specialized treatment after birth. Nurses within these specialties are often the primary care providers during this difficult stage of life for some children.
Neonatal Nurse Practitioner Salary Information
There are several different options for work in the field once you have become a certified Neonatal NP. Our team has provided some generalized averages for nurse practitioners across the country, in order to give you a better idea of what to expect in terms of salary.
The salary expectations can also be vast, depending on the amount of experience you have, where you reside, and which particular field you plan to work in.
Careers as a Neonatal NP
Once you have completed your degree program and received certification, you can seek out careers in healthcare centers and hospitals within your state. Neonatal nurse practitioners can be found in hospitals that provide birthing services to the public and can help provide specialized care to mothers and newborns that have been admitted.
Neonatal nurse practitioners can also working in birth centers that provide holistic care to mothers during the birth process. More and more people are seeking out nurse practitioners to assist during childbirth, making this a great place to settle into a career.
If you decide to work as a Neonatal NP, you could also work in providing primary care to newborn children through medical offices or even private practice. Some nurse practitioners within this field do not play a role in the birth process, but only provide care to children in the weeks following their birth.
Some professionals work with a team of other practitioners in one office or have their own private office in which they see clients.
Lastly, some emergency care centers employ Neonatal NPs to assist with incoming cases of premature birth or newborn care. These professionals are often certified in intensive or emergency care, since most of their clients are coming in for emergency reasons.
Regardless of where you choose to exhibit your expertise, your service to the field can make a difference in the lives of newborn children and their families.