AD
Consider an Online Program Currently Accepting Applicants
School
Level
Program
Admissions
Georgetown University
Master
Online Master's in Nursing

Nursing@Georgetown delivers Georgetown University's MS in Nursing program online, preparing RNs with a BSN to pursue certification in an APRN specialty: AG-ACNP, FNP, NM/WHNP, or WHNP.

Website
Nursing at USC
Master
FNP Program

With the online Master of Science in Nursing program from USC, registered nurses with a Bachelor of Science in Nursing are prepared to pursue board certification as family nurse practitioners.

Website
Click to view 100% online FNP programs that are taking applications for 2023.
One field of advanced nursing practice that is suitable for students that enjoy a fast-paced environment is the Emergency Nurse Practitioner track.
Nurse practitioners are becoming some of the most trusted providers of medical care within many diverse settings. With such an increase in reliability and efficiency, more students are looking into this field as a method for getting involved in medical practice without having to spend years in medical school or other higher education endeavors.
If you are interested in becoming a nurse practitioner, there are many specialty tracks available for you to choose from in order to display your skills and meet your highest potential in the field.
This field contains some common course work and aspects as the Family Nurse Practitioner track, but also includes some acute care and emergency-based elements. Upcoming practitioners that are interested in being a part of life-saving teams in an emergency environment would be a great fit for this field.
Overview of the Emergency NP Degree Program
If you plan to move into this type of degree program for your master's studies, you might be curious as to what these degree programs consist of and how long they can take to complete. Over the country, there are many different programs that offer this type of degree in traditional and online settings.
Students that have some experience in the field of nursing are preferred for acceptance at most universities. Our team has reviewed some of the top colleges providing this type of degree in order to give you a better idea of what to expect while working towards your degree.
Beginning with admissions requirements, most schools require that you have at least a Bachelor of Science in Nursing and be licensed as a registered nurse prior to enrolling. In specialty programs such as this one, you should also have 2-3 years of professional experience within your chosen track.
The advanced program that you enroll in will contain concepts that are best learned after being involved in emergency care prior to engaging in the educational program.
AD
Consider an Online Program Currently Accepting Applicants
School
Level
Program
Admissions
Georgetown University
Master
Online Master's in Nursing

Nursing@Georgetown delivers Georgetown University's MS in Nursing program online, preparing RNs with a BSN to pursue certification in an APRN specialty: AG-ACNP, FNP, NM/WHNP, or WHNP.

Website
Nursing at USC
Master
FNP Program

With the online Master of Science in Nursing program from USC, registered nurses with a Bachelor of Science in Nursing are prepared to pursue board certification as family nurse practitioners.

Website
George Mason University
Master
Online MSN - Family Nurse Practitioner

CCNE Accredited. Prepare to sit for exams from the American Nurses Credentialing Center (ANCC) and the American Academy of Nurse Practitioners (AANP).

Website
Fairleigh Dickinson University
Master
Online MSN - Family Nurse Practitioner

CCNE Accredited, courses on pathophysiology, pharmacology, family systems, nursing theory development.

Website
Campbellsville University
Master
Online MSN with FNP Track

Discover how to contribute to excellence in healthcare and provide quality, evidence-based and holistic primary care to diverse communities throughout the lifespan.

Website
Sacred Heart University
Master
Online MSN - Family Nurse Practitioner

GRE/GMAT Not Required.

Website
Florida A&M University
Master
Online MSN: Women's Health

ACEN accredited, part time and full time options.

Website
Seton Hall University
Master
Online MSN - Adult Gerontology Nurse Practitioner - Acute Care

CCNE-accredited program, 100% AANPCB exam pass rates for primary care graduates over the past five years.

Website
Seton Hall University
Master
Online MSN - Psychiatric Mental Health Nurse Practitioner

Graduate prepared to sit for ANCC's Psychiatric-Mental Health Nursing board certification.

Website
Seton Hall University
Master
Online MSN - Adult Gerontology Nurse Practitioner - Primary Care

CCNE-accredited program, Primary and Acute tracks.

Website
Utica University
Master
Online MS - Family Nurse Practitioner (FNP)

Prepare for Family Nurse Practitioner (FNP) certification through the American Nurses Credentialing Center (ANCC) or the American Academy of Nurse Practitioners National Certification Board (AANP).

Website
Benedictine University
Master
Master of Science in Nursing

CCNE accredited, 2 year program. Application fees waived.

Website
Seton Hall University
Master
Master of Science in Nursing - Health Systems Administration with Case Management
Website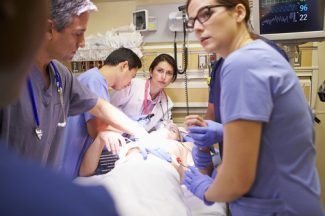 If you know that you want to provide direct care to patients, but want to work in a fast-paced environment that requires quick thinking and immediate response, emergency fields are an excellent place to start.
Having a degree that focuses on life-threatening situations and acute care can prepare you to be a part of helpful emergency teams in hospitals or other busy medical facilities. Professionals in this field can also work in specialty positions such as air travel NPs, due to their quick response time and knowledge of emergency care.
Clinical Experience Required
The Emergency NP degree program consists of both course work and clinical experience requirements that can provide students with the most thorough knowledge of their chosen field. Course work for this degree consists of courses that introduce theories of emergency care, acute illness, and care for people from all age groups.
In emergency fields, the type of client and illness/injury may vary from day to day. Having a broad knowledge of these different topics in nursing can help raise your efficiency as a nursing provider.
The entire program can be completed in 2-3 years for most students. Since there are clinical requirements within each NP degree program, students must engage in face-to-face experiences regardless of whether they take their courses online or in person.
These clinical requirements involve working alongside NPs in the field to observe and take part in emergency care of patients. The learning experience weights heavily on hands on training under trained supervisors. Some degree programs even combine the BSN with the MSN and include all specialty courses. These programs are typically accelerated and allow students to complete both degrees within 4 years at full-time enrollment.
The course work that you take during your degree program focuses specifically on the nursing practices that are relevant to your concentration. Our team has provided you with some common courses for this major below.
Emergency Nurse NP Courses To Expect
Depending on where you enroll in a degree program, your courses may have a different ordering or consistency than other programs. Each educational program focuses on the individual needs of emergency providers within many diverse settings.
Your educational program may have courses that are focused on individual emergency care, care for people with serious or terminal illnesses, and even individuals within different age groups.
Our team of educational researchers has reviewed some of the most popular Emergency NP programs in an effort to provide you with an idea of what to expect in terms of your course work. Some of the courses that they located are listed below.
Advanced Health Assessment
Nurses within the APN program can use topics in this course to learn more about developing and administering health assessments to people from all age groups. Physical, psychosocial, and cultural assessments may also be discussed throughout this course.
Management of Acute and Chronic Illness
This course helps prepare students to assess and manage pain in an emergency setting, airway management, kidney injury, and loss of consciousness. Communication and team work within an emergency setting are also a part of this course.
Advanced Pharmacology
Students taking this course can learn about the different pharmaceuticals available, their effects on individuals, and dosage recommendations for patients of all ages and sizes. Students may also learn more about how people metabolize pharmaceuticals and the effects that multiple drugs can have on an individual's health and well-being.
Mental Health Issues for APN
Identifying, treating, and managing different mental illnesses within an emergency setting is acknowledged within this course. Students taking this course can learn how to spot mental illness in a fast-paced setting and provide care to patients that are showing symptoms of mental illness.
Palliative Care
This course teaches students how to care for and manage patients that have been diagnosed with terminal illnesses. Pain management, symptom care, and communication are strong points that may be focused within this course.
Nurse Practitioner Specializations Available
As you move into Emergency NP degree programs, you might find that there are many different options for focusing your degree on subjects of your choice. There are numerous health-related situations that can compromise the well-being of patients from all age groups.
Having a broad understanding of the different causes and acute and emergency illnesses can benefit you while working in this field, but having a focus can really make a difference in the care of patients with specific ailments. Throughout your education, you may have the option of choosing different concentrations that are relevant to your interests as a practitioner. Take a look at a few different specialty options below.
Pediatrics
Gerontology
Oncology
Mental Health
Neontal NP
Cardiology
Emergency Nurse Practitioner Salary Information
As you move forward into choosing your degree program and future career, you may be wondering what your earning potential will be after graduation. Your experience and education play a large role in determining what you can earn while working in the field.
Take a look at some of the average earnings for NPs throughout the United States.
As you earn more experience, you can potentially maximize your earnings as an Emergency NP.
Potential Careers as an Emergency NP
Once you have graduated from this degree program and become licensed, there are many different career opportunities for you to choose from. Depending on the setting you prefer or the type of client you want to work with, your experience can be vary from others within your degree field.
The most popular and well-known setting for Emergency NPs is within emergency rooms or settings in a hospital environment. If you choose to work here, you may find that your clients consist of people that have been involved in serious accidents or those that are suffering from acute illnesses.
Another option for career opportunities is within private medical facilities that provide primary care to patients. Since the Emergency NP track contains some elements from the FNP track, you can use your knowledge to provide primary care alongside emergency care for your patients in a clinical setting.
Nurses within this realm often have more background knowledge of their clients, due to providing standardized care to them in the past.
Emergency NPs are great resources for medical facilities that have both urgent and primary care needs. Having the ability to use critical thinking and fast response can make you a vital tool for patient health in settings that involve both triage care and acute pain management.
Any health care center that provides these services to the public would be great places for you to settle into a career.