i
Consider a sponsored online program currently accepting applicants.
Click to view 100% online FNP programs that are taking applications for 2023.
Advanced Nursing Practice allows nursing professionals to further develop their skills in order to provide even more care to patients in a clinical setting.
As you search through available programs, you may find that there are many different paths and specializations available for you to choose from. One field for NPs to consider is Adult Gerontology. The Adult Gerontology NP track was designed to focus on the care of patients that are in the later stages of life. Some of the topics that are vital to success in this field include preventative care, diagnostics, and primary care of people within this age group.
AG FNP Programs
AG-NP programs are designed to help professionals nurses learn more about the different physical changes and illnesses that accompany old age. Learning more about what to expect in old age can help professionals provide care to patients within this age group in hospitals, rehabilitation centers, clinics, and even specialty settings. Some AG-NPs even pursue careers in private practice in order to be closer to their patients in a more comfortable and slow-paced setting.
This specialization can allow NPs to seek out careers that work especially with patients within this group. Having a direction with a degree program can open up doors that may not be available to individuals with a generalized degree. Our team of experts has provided this guide to help you learn about the steps required to obtain this certification and what to expect in the professional environment. Read below for more information.
Overview of the Adult Gerontology NP Degree Program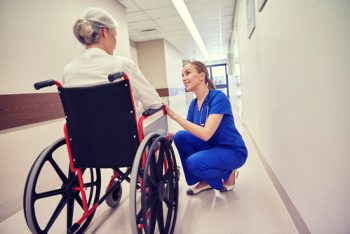 Depending on your current status in the nursing field, your experience during the educational process may be different than someone else's. The first step to becoming a part of innovative AG-NP programs is obtaining a Bachelor of Science in Nursing and gaining your license as a registered nurse.
These steps are in place to ensure that you have the knowledge and experience necessary to move forward into advanced programs.
Most graduate-level programs in nursing also require that you work in your desired field for around 2 years prior to enrolling in educational programs. For the AG-NP program, you should pursue careers that are related to the care of aging patients, so that you receive the most experience and information available before enrolling in advanced degree programs.
Once you have completed these steps, you can enroll in a MSN program with specialization in Adult Gerontological Care. MSN programs with this distinction typically last around 1-2 years for full-time students.
Some MSN programs may also be intertwined with BSN programs to help advanced your learning within a shorter time frame. Course work within these programs consists of classes that involve taking a deeper look into the practice of nursing, as well as courses that teach students more about diagnostic, pharmaceuticals, and care of the aging population.
i
Consider a sponsored online program currently accepting applicants.
School
Level
Program
Admissions
Georgetown University
Master
Online Master's in Nursing

Nursing@Georgetown delivers Georgetown University's MS in Nursing program online, preparing RNs with a BSN to pursue certification in an APRN specialty: AG-ACNP, FNP, NM/WHNP, or WHNP.

Website
Utica University
Master
Online MS - Family Nurse Practitioner (FNP)

Prepare for Family Nurse Practitioner (FNP) certification through the American Nurses Credentialing Center (ANCC) or the American Academy of Nurse Practitioners National Certification Board (AANP).

Website
Simmons University
Master
Master of Science in Nursing (MSN) - Family Nurse Practitioner (FNP) program

Scholarships are available for the online Family Nurse Practitioner program at Simmons University.

Website
St. John Fisher University
Master
Master of Science in Nursing

4 program options: PCFNP, PMHNP, AGACNP, AGPCNP. Part-time and accelerated tracks available. The Wegmans School of Nursing is ranked among the top 100 nursing schools nationally, and is No. 6 in New York state.

Website
George Mason University
Master
Online MSN - Family Nurse Practitioner

CCNE Accredited. Prepare to sit for exams from the American Nurses Credentialing Center (ANCC) and the American Academy of Nurse Practitioners (AANP).

Website
Campbellsville University
Master
Online MSN with FNP Track

Discover how to contribute to excellence in healthcare and provide quality, evidence-based and holistic primary care to diverse communities throughout the lifespan.

Website
Sacred Heart University
Master
Online MSN - Family Nurse Practitioner

GRE/GMAT Not Required.

Website
Seton Hall University
Master
Online MSN - Adult Gerontology Nurse Practitioner - Acute Care

CCNE-accredited program, 100% AANPCB exam pass rates for primary care graduates over the past five years.

Website
Seton Hall University
Master
Online MSN - Psychiatric Mental Health Nurse Practitioner

Graduate prepared to sit for ANCC's Psychiatric-Mental Health Nursing board certification.

Website
Seton Hall University
Master
Online MSN - Adult Gerontology Nurse Practitioner - Primary Care

CCNE-accredited program, Primary and Acute tracks.

Website
Benedictine University
Master
Master of Science in Nursing

CCNE accredited, 2 year program. Application fees waived.

Website
Sacred Heart University
Master
MSN - Clinical Nurse Leader
Website
Sacred Heart University
Master
MSN - Nursing Education
Website
Adult Gerontology Courses To Expect
AG-NP programs consist of a lot of the same course work that you might find in other MSN programs, but may also include courses that are specific to the care of aging patients. Depending on where you enroll in a degree program, you might find that there are also courses that seek to test your understanding of different theories and applications of advanced nursing practice within a relevant setting. The experience that you gain as a RN prior to enrolling in your degree program can help prepare you for some of the ideas that are presented within your higher education.
Our team of education experts has been researching educational programs for over a decade. In order to give you even more information about this degree program, they have researched and reviewed some popular programs offering this degree.
While some degree programs have course work that is more focused on advanced practice policies and procedures, others may offer students the opportunity to display their skills in mock or organized settings. Some of the most common courses and topics found within these programs are listed below for you to read through.
Advanced Pathophysiology
This course can teach students more about the different organ systems within the human body, as well as the normal and abnormal functioning of each section. Clinical problems associated with care and physiology may also be discussed.
Lifespan Pathophysiology
While taking this course, students can learn more about how different organ systems are formed after conception, how they change through natural development, and the degeneration that takes place as people grow into old age. Common illnesses, disease, and other ailments may be a part of this course.
Pharmacology for ANP
Students taking this course can learn more about the diagnostic process required for prescribing and monitoring the use of medications in the older population. Side effects, allergies, and symptoms are also a large part of what students will review while in this course.
Nursing Care for Older Patients
The direct care of aging patients, policies and procedures, and methods of care may be discussed in this course. Students that enroll in this course may also be required to review case studies and diagnostic reports for patients within this age group.
AG Primary Care Patients Synthesis
This course provides students with the opportunity to use what they have learned during previous courses to develop action plans and treatment plans for patients within case studies. Courses such as this one are useful in testing a student's knowledge in advanced nursing prior to graduation.
Potential Earnings for Adult Gerontology Nurse Practitioners
What you will earn in the field is related to the amount of experience you have in the field of nursing, the type of specialization you choose for your degree, and what area of the country you live in.
In order to give you the best idea of what to expect in terms of earning, our team has provided average data from NPs all over the United States for you to review. The information below is provided by the Bureau of Labor Statistics.
Adult Gerontology Specializations
There are many ailments and diseases that run concurrent with natural aging. As an AG-NP, you can work in many different specialties that exhibit your knowledge and skills of these different ailments, so that you can provide care to patients that have been diagnosed with these problems.
The advantages of choosing a specialization include having specialized opportunities in the field, providing specific care to patients within a clinical setting, and having the opportunity to learn more about your area of interest.
Students that choose a concentration for their degree program may want to pursue careers in private practice, or simply want to focus on one specific aspect of aging health throughout the course of their career. Some of the most popular specializations for this degree program are listed below.
Cardiology
Orthopedics
Oncology
Endocrinology
Infectious Disease
Nutrition
Having a focus can allow students to dive deeper into their specialty in order to provide the best care possible to their patients.
Potential Careers as an Adult Gerontology NP
After you have completed a degree program as an AG-NP, you may find that there are many exclusive positions for you to pursue while working in the field. Caring for aging patients can take place in standard medical settings such as hospitals and medical clinics, since these organizations specialize in the primary and emergency care of all people.
AG-NPs within these settings may see patients that are being admitted for emergency situations or those that are being seen for everyday health-related check-ups.
Specialty fields that are available to AG-NP students can include those that focus on specific areas of the body – such as orthopedics. Working in this field can allow professionals to work in busy hospitals or within specialty clinics that only address problems within their designated practice area.
If you pursue a specialization such as orthopedics with your degree, you may only treat patients that have ailments within their feet and ankles.
Preventative care is another popular area of interest for AG-NP graduates. Patients that are older age require a lot of attention to diet, exercise, and disease screening. These types of tests and referral services can be completed by AG-NPs that have specialization within each area.
Oncology, Endocrinology, and Nutrition are some areas of nursing in which NPs can provide diagnostic screening and referral to patients that are showing symptoms of different diseases and provide insight into proper diet and exercise needed to live happy and healthy lifestyles.
While specialty fields are popular among NP students, there are also many opportunities for AG-NPs that want to have a primary care distinction but not specialty. These professionals can work in medical centers or even private practice, providing primary care for regular patients throughout the later stages of life.
If you are considering the AG-NP degree program for your future, you can have a wealth of opportunity once moving into the field.